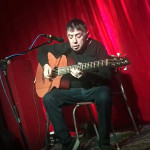 BY
Vince
- Mon Oct 07, 2019 3:21 pm
- Mon Oct 07, 2019 3:21 pm
#841054
I'm really chuffed, I've been invited to play the Wellington Folk Festival on the evening of the 26th of October. The day after my birthday, too.

It's not one of the fancy headlining spots, I gather I'm in with the steerage passenger acts. But I really don't care, I'm still thrilled to bits.
"Vince, have you ever tried playing an
expensive
bass?" - Polarbear.
"And isn't that the finest acoustic bass guitar feedback solo you've ever heard?" - Billy Moose.
My Bandcamp Page
Facebook