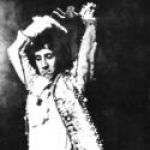 BY
kdawg2a
- Sat Oct 05, 2019 3:00 pm
- Sat Oct 05, 2019 3:00 pm
#840851
Let me start by saying, this is a beautiful guitar. The wood choice, the fit and construction is lovely. As good as the G one, as good as most of the others that are doing the G ones thing.
Here's the set up I used; Guitar, lead, Marshall Class 5, fingers.
The guitar has been modded, front pick up turned around, different knobs, aluminium tail piece, in what I believe is refered to as the 'Peter Green' style.
My comparrison instruments;
1997 stock Gibson Les Paul Standard (yup, the $7K TM ones, winky guy) and a 2000'sish Bacchus Flying V , made in Japan, styled after a 1950's V.
For fit and construction, the Tokai is awesome, much like the Bacchus. The Gibson trails slightly in this with some minor imperfections.
The finish? If the Tokai was gloss (it has a satin finish) it would easily be as good. I get that this is personal preference. It's got a nitro coat and with an hour or so of polishing compound could easily be turned into a glossy monster. It would also have an awesomely thin finish. I like it. It's good but a tiny ammount of elbow grease (and bonding with the guitar) would make it great.
The sound.
I'm not sure if this has anything to do with the pickup being turned, but the front pickup sounds full bodied, slightly honky, and defined. You can pick out clear but powerful notes on it. The back pickup unfortunately loses a bit of output and sounds a touch nasally. Compared to the rest of the guitar, slightly dissapointing. Don't get me wrong, it still sounds good, but it doesn't have the power of the Gibson or the clarity of the Bacchus.
The detail of the Tokai is awesome. Proper footing for the ABR1 style bridge, and period correct tuner ferrules,
Hang on, second post.....