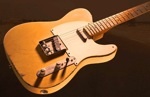 BY
Reg18
- Fri May 03, 2019 5:54 pm
- Fri May 03, 2019 5:54 pm
#826170
Looking to paint a project Jaguar guitar in lake placid Blue but I want the already aged colour.
How do i achieve that?
I can obviously get the paint code for Lake Placid Blue but not the code for a 50 year old version that the lacquer has yellowed on.
Is a simple Amber Lacquer top coat or 2 going to get close?
Last edited by
Reg18
on Mon Jun 10, 2019 4:30 pm, edited 1 time in total.