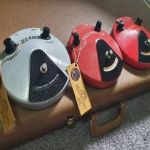 BY
mugamee
- Fri Nov 09, 2018 11:38 am
- Fri Nov 09, 2018 11:38 am
#807617
I have an opportunity to purchase either of the two:

1. A silverface vibro champ
2. A vintage blackface princeton reverb (chasis, speaker cab, speaker and reverb tank only-- basically, the guts will need to be built from scratch). Note: i am totally clueless re: electronics so someone will have to build it for me.

The seller's offers are only $10 apart.

Which one would the team recommend?