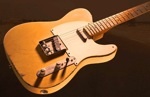 BY
Reg18
- Sat Aug 24, 2019 6:02 pm
- Sat Aug 24, 2019 6:02 pm
#837330
After 2 days with the HX Stomp I've realised it takes a lot of tweaking to get it sounding great.
Some presets sound ok straight out of the box but fine tuning input gain, compression level and those bias controls really helps get the last 5% dialed in. Theres still a slightly strange vibe playing it but I expect that's just the sound of a miced amp rather than actually standing in a room with the amp.

Did a quick demo of the preset I've set up for tomorrow mornings set, no doubt once o here it in the mix I'll need to tweak some things as well.
How many people are using HX Stomps for direct in?