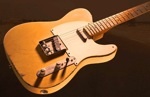 BY
Reg18
- Tue Aug 13, 2019 9:52 pm
- Tue Aug 13, 2019 9:52 pm
#836199
KNNZ wrote:$700 was a bargain really! the last one i saw on sale was on TM and it went quickly with a buynow of $1000 even! with a bit of tweaking, honestly it can sound very close to the Kemper, your crowd won't even tell the difference, but with the Kemper you get the feel of a real amp, can't really compare though, the HXS is a minimalist approach, on the fly rig etc
Yeah I knew $700 was a good price but wasn't quick enough unfortunately.
The feel is the bit that concerns me, I'd be surprised if the audience could tell the difference with me playing my $50 Joyo American Sound most Sunday's but I can certainly feel the difference and how it reacts which is a little off putting.
Especially with expressive dynamic playing.
Did you buy the new Floor unit Kemper?
If so mind if I ask rough landed price in NZ?
Edit: this video is helpful