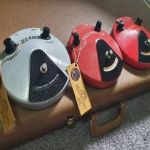 BY
mugamee
- Tue Sep 10, 2019 9:24 pm
- Tue Sep 10, 2019 9:24 pm
#838608
So while on a holiday overseas, I got to play my lil brother's DT SG and got hooked.
I am after a 61 RI, just the normal i.e. non custom shop one. Also the cherry one.

found one on FB weeks back but sadly was too swamped to pull the trigger.
Preferably located in AKL so i can try out as well. Thanks team.