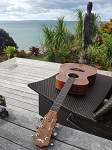 - Fri Mar 20, 2020 10:32 am
#855584
This is a relatively recent purchase of mine, only selling because I've given gone down the low-wattage route.

100W all-tube combo, 1x15 speaker. Does the classic Fender Twin spanky sound. Reverb and trem sound great and are both footswitchable (footswitch included). Headroom for days. Stupidly, stupidly loud.

Built in 1995ish, purchased by me late last year. I got it serviced by Clarry a couple of months ago. He described it as 'quiet as a mouse'. The tremelo in amps from this era are known to be a little clicky, and this is the case here.

Looking for $1600, which is what it cost me to purchase and get to Northland. Happy to meet in Auckland (I'm down about once a fortnight).

In terms of potential trades, I'd be open to a Vox AC-4 ( / other low-wattage head) with cash my way, a PRS with cash your way or perhaps something with P90s. Or just let me know if you have something interesting!