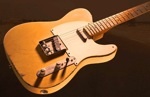 BY
Reg18
- Wed Sep 11, 2019 4:34 pm
- Wed Sep 11, 2019 4:34 pm
#838685
Has been my main low gain OD for a few years but since going digital my OD pedals are fast becoming redundant!
Been hanging onto this incase I might step on it every now and then but it's just not getting used!
$240
Adding Shure SE215 ear buds. Not amazing condition, spilt some glue on one of them and you can't see it so much as feel the texture when you hold it. I've never tried meths or anything to see if it comes off, it may be just fine. $80?
Attachments
A0F71725-31A8-431F-A12F-A75E1AD1F392.jpeg (664.88 KiB) Viewed 248 times
E1734833-C909-45F0-B688-5AB2DBC67D9F.jpeg (726.14 KiB) Viewed 248 times
15619F06-A0AA-4EBE-94C7-B6B27B02ABFF.jpeg (666.66 KiB) Viewed 248 times
Last edited by
Reg18
on Thu Sep 12, 2019 5:11 pm, edited 4 times in total.