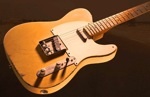 BY
Reg18
- Sun Jul 07, 2019 4:21 pm
- Sun Jul 07, 2019 4:21 pm
#832337
Enquires of interest on this Tokai ES60.
It's the Chinese made one and can come with the Duesenberg Trem and GFS Surf 90 pickups (which are dynasonic copy's) and the original pickups if desired.
Or I'm happy to take the pickups out and sell without the gfs pickups and Duesenberg Trem.
Tone pot wiring has been changed to master tone and master bass roll off instead of 2 tone controls. Helps keep the neck pickup from being too muddy.
Last edited by
Reg18
on Tue Jul 16, 2019 7:27 pm, edited 3 times in total.