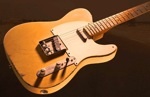 BY
Reg18
- Mon Jan 07, 2019 2:05 pm
- Mon Jan 07, 2019 2:05 pm
#813517
This pedal is like new, it has the independent boost based off the Lovepedal COT which is a respected boost in its own right.
Open to trading for a good centre speaker for my home theatre, ideally a B&W to match my book shelf speakers but open to others.
Pic from net but identical
Last edited by
Reg18
on Thu Jan 10, 2019 7:27 am, edited 2 times in total.