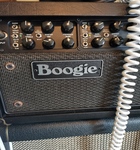 - Sat Sep 07, 2019 9:21 am
#838371
NippleWrestler wrote:

StratMatt wrote:

willow13 wrote:That looks a bit like Rimu (?)

So in your very first build you made up a template

I have built over 15 guitars and I have still never used a template......I think I probably should have learnt by now



Yeah I wasn't sure but it smells like Rimu, it's certainly pretty solid.

I honestly couldn't see any other way but to make a template. With the router bit that has the bearing bit on it, it's real easy to tidy up the rough cut out.



That's 100% rimu. I've never really liked it for guitars, finding it a bit lifeless but hopefully you'll have better luck. I do think it'd make a nice fingerboard though.

Did you line up the E and e strings before you drilled the neck in btw? Just to avoid any chance of putting the thing in at a wonky angle relative to the centre line. That's not fun, speaking from experience.

If you're in Auckland and need any bits and bobs like a radius block or fret caul give me a shout.
Nope, totally flying by the seat of my pants here. Makes sense now that you mention it haha. Thanks for the offer.
Hopefully it still sounds tele-ish and not totally dead. Good bit of practise either way.
All rock and roll bands are on the verge of breaking up at all times.