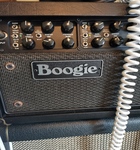 - Fri Sep 06, 2019 2:38 pm
#838294
I thought I'd just document the progress of my first attempt at making something. Its nowhere near the likes of some of the amazing builds people have done here, but you can't have an average without there being an above and below.
I pulled apart the Missus old set of drawers that were built into the wall and thought the top looked like a worthy specimen.
I downloaded a template, got the local print shop to print me a 1:1 copy and I transferred it onto a piece of MDF.
Bought an Ozito scroll saw and promptly fucked up the first attempt. Looks OK here..
But side on is a different story..
Think I pushed the blade a bit too hard and it threw in the towel.
Second attempt was more successful.
Using my template and my fancy new router bit, I made some holes.
I don't know how the Missus throws on her makeup and perfume in such a way that it gets everywhere, but I could literally smell perfume as I was routing out the neck pocket and pickup cavity.
The neck seems to fit well. Hopefully shit ends up nice and straight once I string it up.
I'm not sure if my neck pocket is deep enough? I guess I just see how it is once everything comes together and adjust accordingly?
A bit of tidying up, sanding and oiling to do etc, but not bad for a few hours work I reckon. I don't have a drill press, hoping I can drill the bridge and neck holes straight enough!
Last edited by
StratMatt
on Thu Sep 19, 2019 5:55 pm, edited 1 time in total.
All rock and roll bands are on the verge of breaking up at all times.