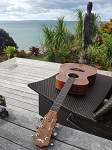 - Mon Jul 08, 2019 9:32 am
#832418
Has anyone attended this, or heard from someone who has? I'm thinking about dipping my toes into the DIY world, and this seems like a good (i.e. heavily supervised) place to start.
The price is pretty reasonable at AU$2500, given you get to keep the guitar at the end of the course. The real value is of course in the skills you learn (and the friends you make along the way).
Alternatively, has anyone done the Binford course in Auckland? It looks a little more group-focused.
Link:
https://fletcherhandcraftedguitars.com/
His YouTube videos are great, but prepare to spend several hours watching him build that Strat!
https://youtu.be/NZSDzBv_rIA