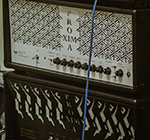 - Sat Mar 21, 2020 11:55 pm
#855801
Hi guys!
My first post, not a native speaker, be kind =)
I was wondering why so many manufacturers are using class D amps in bass amplifiers these days.
It turns out that one of the main suppliers for Fender, GK is the Danish company ICEPOWER (Bang and Olufsen branch).
They make fantastic ICEpower50ASX2(SE) modules you can find on Aliexpress (visually the same) for 100 NZD: power supply included, no radiator, wow.
I had Warwick Pro Tube IV 400-Watt bass amp to compare. 1x15+2x10 cabs. TUNE active 4 str bass (fast asf).
I wired ICEpower50ASX2(SE) as BTL module for the bass preamp with a relay and shove it into the used rack unit.
The simple tube Alembic preamp (with my favourites 6SL7) +icepower totally blew away fancy German manufacturer. Wow.
It's like a 10 times lighter and does not heat up.
Moreover, this 170W module was actually LOUDER than 400W Warwick. I think this is due to nice breakup of icepower.
In any case, it was more than enough for a loud drummer.
I added two 5v fans because it fell into protection mode due to overheating during a long and loud rehearsal, now it's cold as a corpse.
After that I added dirty channel based on Diezel VH4 circuit (to compare it with my tube head).
And blended them together, damn that's a bomb!
I'm still trying new things in the scheme(out of curiosity, I just can't stop) but at this point I am completely satisfied.
I also use this amp for my Hi-Fi system (with the tube preamp switched off and switched to SE mode, 2x50W).
I compared the dirty channel with the same in my tube head, and the tube poweramp sounds much sweeter but softer at the bottom. I prefer it for the guitar 100% but I'm sure Blackstar and others experienced companies can handle it.
If you have a modern class D bass amp in Christchurch I'm looking forward to compare them.
NOTE, the circuit is messy and still under construction.
I wrote this post to encourage anyone who wants to try it.
Attachments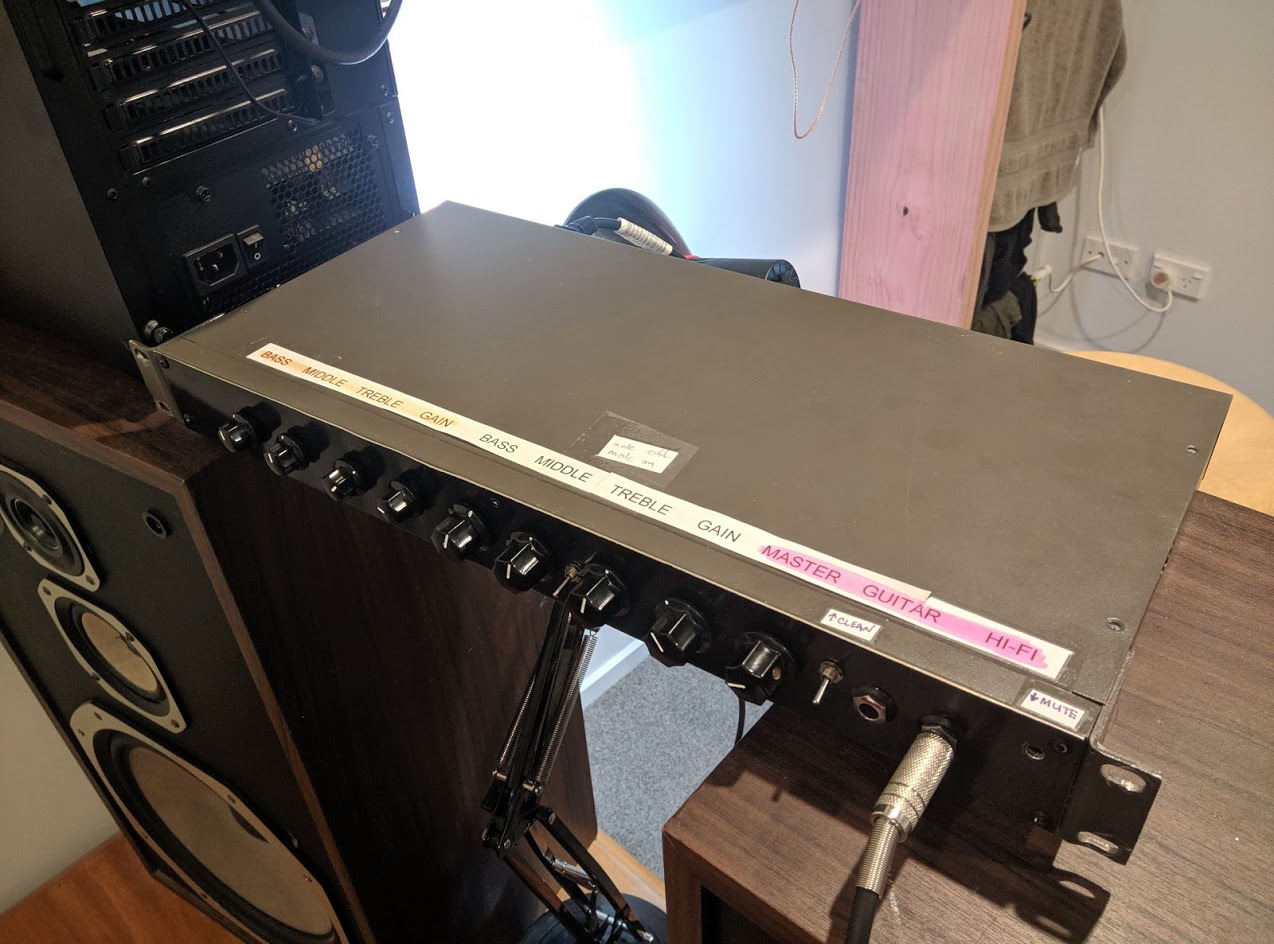 IMG_20200322_011152.jpg (221.01 KiB) Viewed 364 times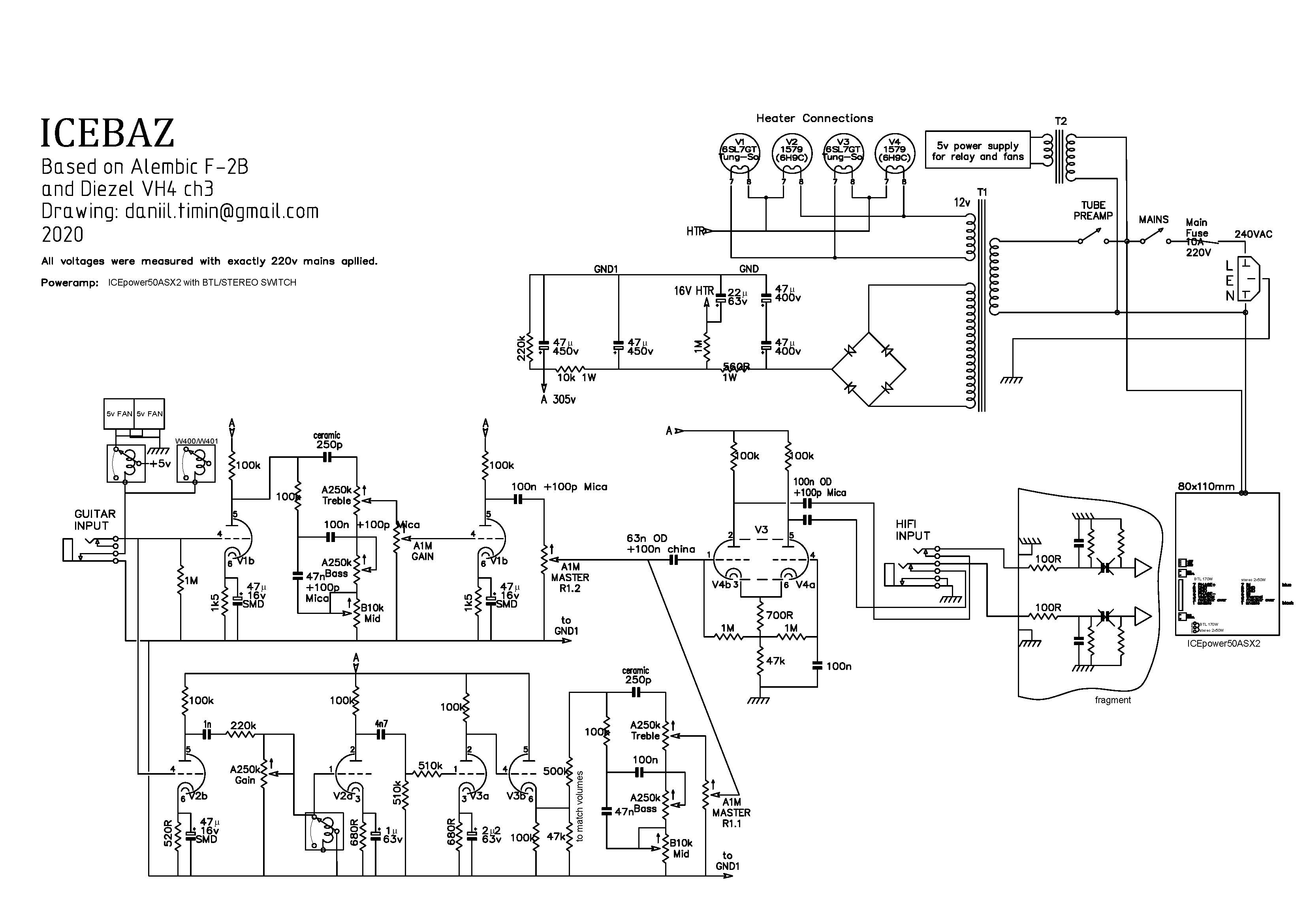 icebaz-Layout1.jpg (412.36 KiB) Viewed 373 times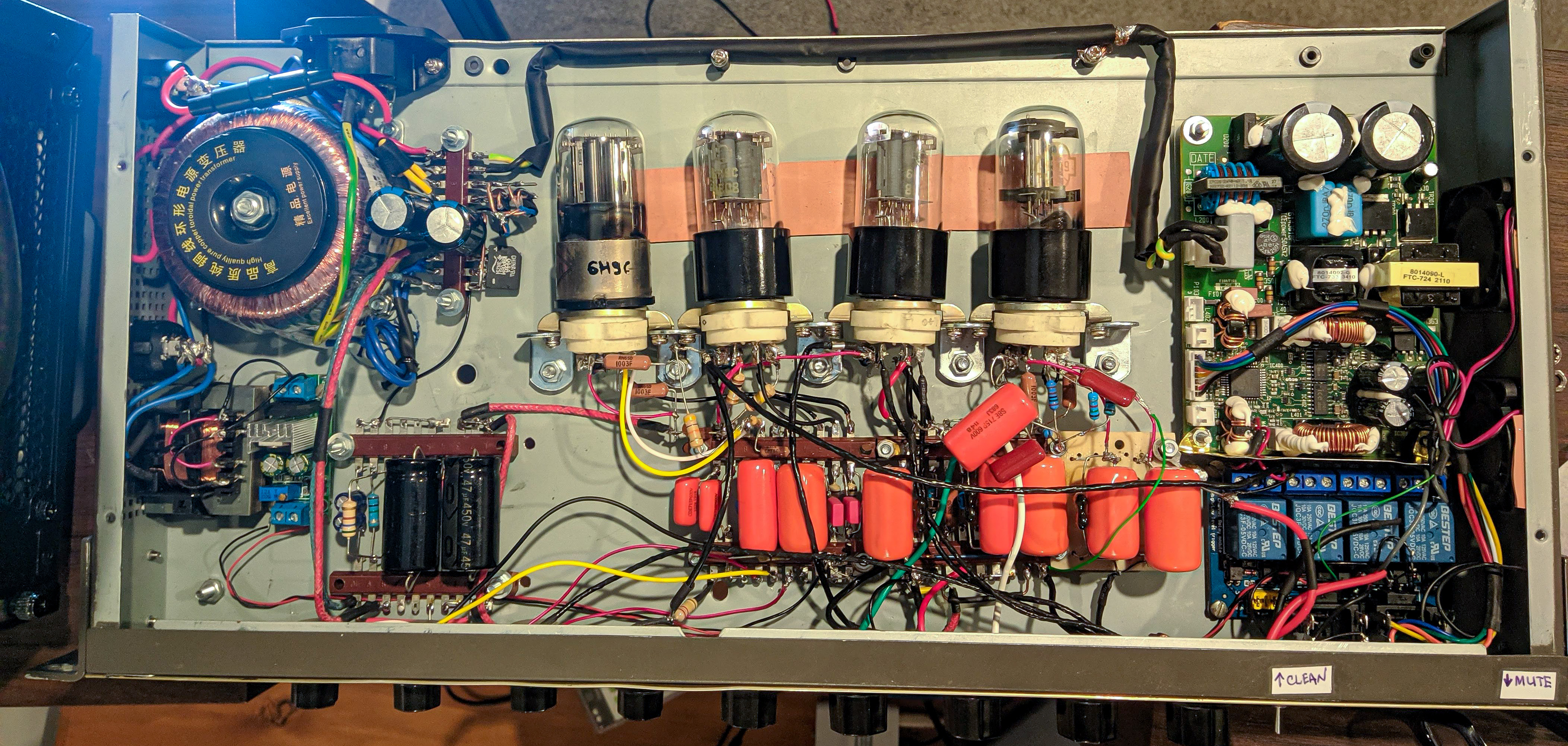 IMG_20200321_225756.jpg (3.18 MiB) Viewed 373 times