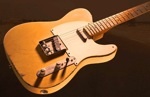 BY
Reg18
- Tue Jun 13, 2017 7:46 pm
- Tue Jun 13, 2017 7:46 pm
#743969
kdawg2a wrote:

jeremyb wrote:I feel like I wanna put a filtertron in the neck of my tele.... anyone else done this?


Mini hum. Sounds ace. Just look at Regs guitar.
Yeah contiplating getting another Seymour Duncan mini
For my Tele middle position which means I might have my GFS mini for sale at a good price. I think the GFS is a bit bassy/muddy but it's not too bad.