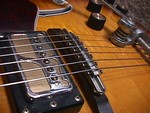 BY
H671
- Mon Jul 15, 2019 4:24 pm
- Mon Jul 15, 2019 4:24 pm
#833351
Maybe not, unless I find one at a reasonable price here because the only place that I've seen them is on Ebay & the prices are crazy high.
Gibson 335, Harmony H671, Epiphone Riviera & EJ200CE, Hagstrom Viking Bass, Doubleneck bass/guitar.
Fender Vibro King, Rivera Clubster 45, SWR California Blonde, Carvin AG100D, Ashton BSK158.