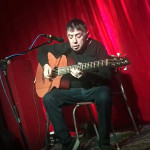 BY
Vince
- Wed Sep 11, 2019 3:24 pm
- Wed Sep 11, 2019 3:24 pm
#838679
Someone was telling me last night that I should have projections and that behind me when I play.

Makes sense, it's instrumental music, sometimes people even say it's "cinematic".

So that begs the question... what is a starting price for a projector that won't get washed out by other lights? I'm talking about a digital one, not an old school slide projector. Is there anything I should look out for?
"Vince, have you ever tried playing an
expensive
bass?" - Polarbear.
"And isn't that the finest acoustic bass guitar feedback solo you've ever heard?" - Billy Moose.
My Bandcamp Page
Facebook