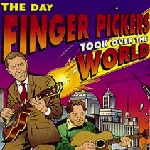 - Sun Jun 22, 2014 2:41 pm
#599275
Find myself playing less and less electric and more and more acoustics as time goes on. Evident by the fact that the last 3 guitars I bought were all acoustics. Here is a recent cover of Sultans Of Swing ...
[youtube]http://www.youtube.com/watch?v=WntD4FuaVVc&feature=share&list=PLABkrvIGxVof5Jzj5n9HKePAQCexa95_s[/youtube]
Hiccups and all

I woke up this morning and said to myself
Self what a great day it is for Rock and Roll ...