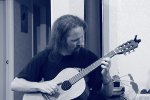 - Tue Mar 12, 2013 12:59 pm
#569489
heres a few toneclips of my NT2h, these were recorded via the lineout using a Lightsnake cable (Jack to USB) into Audacity. so not the ideal recording scenario

this is just how it recorded, no fiddling involved



please excuse all the mistakes/fumbles etc

Bright channel, gain just after 9 oclock, neck PU (HB from Hell) in Eagle
Bright channel, gain at 11;30, Eagle, clean is middle position, switching to bridge (Invader) for the dirt, then click it into the thick channel for the lead (if you can call it that



)
Thick channel, gain at 3 oclock, bridge PU of Eagle
so who can name the songs I attempted to play?
You do not have the required permissions to view the files attached to this post.
Hurdy Gurdy.... some how... and I'm not entirely certain how mind you, an instrument that sounds like someone has shoved a nest of angry hornets into a goose with a kazoo bill and is randomly slapping the poor creature with an accordion.... Sounds amazing.