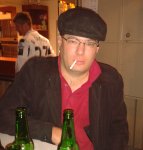 BY
alanp
- Fri Jun 10, 2011 11:05 am
- Fri Jun 10, 2011 11:05 am
#452112
http://www.guitarhymns.com/hymns/othedeepdeeploveofjesus.html
I was listening to Hiding Place, by Selah, and looked up this one. Great, great fun to play.
But WOW do those old hymns use a LOT of chords! I don't mean variety (although they usually have a fair bit of that), but hymns change chord a lot compared to more modern stuff. In some parts of this hymn, it's a new chord every syllable. Just as well the singer is never in too much of a hurry then

Practicing stuff like this can only make me a better player, provided I don't just get sloppy.
Capt. Black wrote:Call me if you're looking for the sound of a sows ear made from a silk purse with a side of hot bitches and alcohol