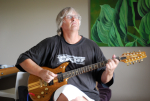 BY
corsair
- Sun Apr 08, 2018 1:31 pm
- Sun Apr 08, 2018 1:31 pm
#781198
hey there, gang... not strictly speaking a tab, but....

... this song by the La de dahs was about the first song I can really remember being played at home on our old record player by my elder siblings, and I've always wondered what KB is playing in the rhythm guitar spot. Any ideas?


There is no sort of aberrant behaviour that cannot be modified by use of the correct ammunition!