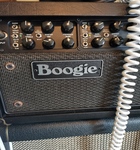 - Mon Apr 01, 2019 9:32 pm
#823641
Obviously this is a guitarist site, but hopefully someone will know a guy or gal.
The drummer in our cover band wants to chuck it in so we need someone to replace him. We have some gigs lined up and a good 60 songs under our belt. Practise in Pukekohe/Waiuku but can travel, electric drums for practise would be handy but not necessary.
If you know anyone please put them in touch with me or through our Facebook page:
https://www.facebook.com/ColomboMassiveBand/
All rock and roll bands are on the verge of breaking up at all times.