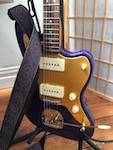 BY
HackSaw
- Tue Sep 18, 2018 5:18 pm
- Tue Sep 18, 2018 5:18 pm
#801615
Bg wrote:so who's drumming
one thing I can't do...

I can vox, bass, guitar and synth though...
I can hit shit arythmically, get drunk and vomit, fail to pay my share of the gas money, cadge everyone else's cigs, sleep with the mingers, never help with setup/pack-down, and occasionally score bad weed. Does that make me a drummer?