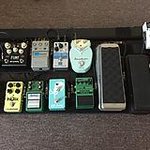 BY
sirvill
- Sun Jun 19, 2016 3:51 pm
- Sun Jun 19, 2016 3:51 pm
#693417
Probably a long shot, but any bands out there looking for a guitarist or bassist??
Recent project has just fallen through and I'm missing it already so keen to get back into things.
What I'd be most interested in (which is the kind of stuff that comes naturally when I write) is stuff like Stoner Rock/Metal, Doom, Post Rock/Metal ...so basically stuff that's either riffy or textural. That'd be awesome, but I'm pretty open to anything.
Would prefer guitar but I have a bass rig and would be happy to play bass too if that's what's going.
Based in Wellington area (will go as far north as Kapiti, Hutt is fine etc - I have a car

)
Flick me a PM!