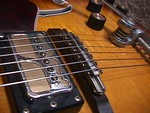 BY
H671
- Thu Nov 23, 2017 8:49 pm
- Thu Nov 23, 2017 8:49 pm
#765396
Double Wow!
I thought that I was doing ok playing a double neck & stomp box, but that leaves me for dead.
Gibson 335, Harmony H671, Epiphone Riviera & EJ200CE, Greg Bennett RL4 LTD, Hagstrom Viking Bass, Doubleneck bass/guitar.
Fender Champion 600, Ramparte, Excelsior, Vibro King, Rivera Clubster 45, SWR California Blonde, Ashton BSK158, Behringer Thunderbird Bass.