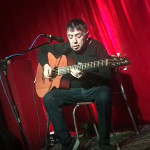 BY
Vince
- Wed Nov 07, 2018 8:35 am
- Wed Nov 07, 2018 8:35 am
#807427
My old man bought a 2nd hand guitar which, back then, cost the princely sum of $10. Shitty little classical thing.

Like most sensible people, he tried a couple of strums, put the guitar down and never thought about it again. I was horrified that we'd basically thrown $10 down the toilet. The guitar came with a bunch of books, so I started learning just so the money wouldn't be wasted.

And now, after tens of thousands of dollars spent over the years on gear, strings, etc, the wasted $10 are a drop in the ocean.