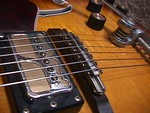 BY
H671
- Thu Apr 20, 2017 10:44 am
- Thu Apr 20, 2017 10:44 am
#734977
Vince wrote:interesting take on this. Sensible, too.


I have noticed in the past that I would practise songs at home & get all my settings to where I felt everything
sounded good, only to find I had to change to suit our other musicians at rehearsals, so I agree with his point there.
On the other hand, tone does come into it's own when solos are played.
Gibson 335, Harmony H671, Epiphone Riviera & EJ200CE, Greg Bennett RL4 LTD, Hagstrom Viking Bass, Doubleneck bass/guitar.
Fender Champion 600, Ramparte, Excelsior, Vibro King, Rivera Clubster 45, SWR California Blonde, Ashton BSK158, Behringer Thunderbird Bass.