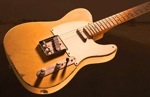 BY
Reg18
- Sun Dec 16, 2018 5:25 pm
- Sun Dec 16, 2018 5:25 pm
#811327
Apart from the convenience of syncing my Strymon Timeline and Bigsky with a midi controller I'm pretty much using a darkish plate Reverb with expression controlling the decay length 90% of the time.
Seems like over kill right?
Never quite managed to get the Bigsky to replicate the Flints reverbs either.