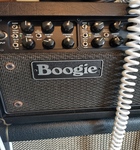 - Sun Jun 03, 2018 9:39 pm
#787632
As usual, with a bit of money available, the pocket is on fire.

I really don't feel like much new guitar wise, save for a Telecaster, but I've got a soft spot for combo amp. I'm keen on something that will sound good at home; I can crank things pretty good at home, so whisper bedroom volumes don't matter too much. I like the idea of the Supro Black Magick but open to any other suggestions. I'd like to have something to use as a backup if the AX8 fails for whatever reason.

Ideally something with some gain on tap, but nothing more than heavy rock required. I don't want to buy any pedals as my AX8 covers everything, so something that rocks hard by itself and cleans up well with the guitars volume would be the way to go for me. I pretty much always use my LP or Axis.

Budget would be around $1500 used.

Cheers chaps!
All rock and roll bands are on the verge of breaking up at all times.