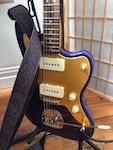 BY
HackSaw
- Tue Nov 27, 2018 10:30 am
- Tue Nov 27, 2018 10:30 am
#809597
I've got a Maschine Studio, in the house not in the post. But Native Instruments for some reason have a hold on the licence transfer function on the website during their thanksgiving sale. So I don't have the Maschine software while I wait. Dumb!

Took advantage of the RS cyber sale to upgrade my Komplete software to 12 though.

Not guitars I know, but 'tis all I have for now.