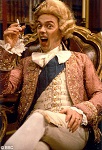 BY
GrantB
- Thu Apr 27, 2017 8:27 pm
- Thu Apr 27, 2017 8:27 pm
#735975
Slowy wrote:

GrantB wrote:

Dharmajester wrote:
All those cool guitars and handmade valve amps and you go and stick a bloody digital multi effect in between them. I dunno, you young (er) folk



That's what a M13 looks like....but really, it's something else. I'll prove it soon....if Mr B lets me.



See Grant? He called you young(er).

You can let go of the Nels Cline comparison now.
So funny - I was laughing to myself about that just the other day! Off the hook Bruce....

"Man is the most insane species. He worships an invisible god and destroys a visible nature. Unaware that this nature he's destroying is this god he's worshipping." - Hubert Reeves