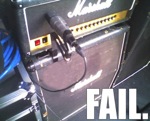 - Fri Jun 08, 2018 12:48 pm
#788221
AiRdAd wrote:

bender wrote:

olegmcnoleg wrote:Been jonesing for an offset guitar for a while now, and finally took the plunge.



-MJT body with heavy relic black nitro finish
-USA Custom Guitars neck, rosewood fingerboard, Chunky with a soft V, 9.5 radius
-Mastery Bridge and Tremolo
-Lollar Jazzmaster Pickups
-Gotoh tuners
-Tusq nut and string trees
-Pro setup at Chicago Fret Works
-Fender hardshell case
-Set up for 11s

Might have to try playing some surf tunes now...


I see you have the correct bridge and trem. Excellent work. Would love to hear the Lollars some time!



I'm sorry to tell you... but you've bought a lemon!!!! The idiot that made it put the tremolo on backwards!!!! I just bought this partscastser off Bender and this is how he told me the trem is supposed to go!!!

LOLS, look at that, some SRV fan tried to build a JM.