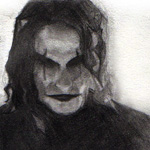 - Tue Feb 12, 2019 9:36 am
#817923
Hmm. I don't think a 'forever' amp actually exists for me, as in my quarter-century of playing, I've changed tones and tastes with time and age. I prefer to think of amps like houses or cars – you purchase what is going to suit you for the time depending on life stage.
My focus for sound tends to be on something that does most things well, rather than a specific high-gain or super-clean platform, as I tend to always end up sitting the medium-high gain range of tones. For me, that's always been EL34-based 'British' sounding amps.
In my early days during my late teens/early 20's I had a DSL100 which is hit and miss depending on what you know/read about them and the ol' shifting-bias issues. But this was the sound of my earliest successful bands. It did most things well enough and suited my budget as well as pairing well with my setup. Had this for about 7-8 years… some of you will know the story of what happened next after I sold it to another forumite… if you don't, a good kicking for you!
Next was a Rivera Knucklehead which I had for a decade from 2006. It again did similar sounds, but just better. Just more alive and vivid. It was also built with extremely high quality and precision and suffered no issues in that time despite having been a touring amp for the now-defunct Kiwi-band "Zed" in the early 00's. I ran it on 2/4 power tubes for ages and it still slayed most other amps alongside it. It seemed a natural progression and upgrade from the DSL and I would have happily kept this one for the foreseeable future…
… however, a chance test and a good deal on a Splawn Quick Rod in about 2013 swayed me into an unexpected but unregretful purchase. Essentially I have the best of both my previous amps, now coupled with an amazing matched cab care of kloppsta. Of all my amps, this is the one I've "past participle of get" the most tonal compliments and discussions about and is the most enjoyable to play. It is not perfect (of all 3 of my long-term amps, it has the weakest clean sounds, and it's best run at high volume) but the gain sound is just hard to beat and constantly sounds good in all bands I've used it in. I ran this a/b with the Rivera for clean/low gain sounds for a while but found I played 70% on the dirt channels on the Splawn, so eventually let the Riv go to another appreciative forumite (sirvill).
However, the most interesting turn of things for me has been acquiring my Katana head about 8 months ago care of Opsguy. I was curious about the hype, and wanted a backup amp that I could use in either of my bands without changing all the settings, as well as at home. Katana head fits the bill, and for about ¼ the price of my QR. The most surprising thing is that it has now become my predominantly used amp due to the small form factor and weight for portability, the fact that without tubes to worry about, it's relatively robust and , most importantly to me… it sounds about 85-90% like my QR with some relatively minor tweaking, no joke. No infinite layers of Inception-level soundscaping. About 20 mins of finding four channel presets for each band and then 2 second to hold a button and switch between them. Irony is that at this point, I would probably keep the Katana over the QR… but again, it comes down to that old thing of horses-for-courses.
All this being said, I'm about two months shy of 40, so my midlife crisis is due and is likely to point me in the direction of a new amp for the decade!

http://www.facebook.com/#!/pages/The-Al ... 895?ref=ts
FYI, I'm NOT Scarecrow101 on Trade Me.... just The_Scarecrow