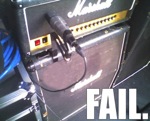 - Mon Feb 11, 2019 9:05 am
#817823
null_pointer wrote:

olegmcnoleg wrote:

Slowy wrote: Mk 1 Boogie?



Ah, did you see that Princetonish listing Codedog had up--my old amp...a Princeton with 6L6s. I think he has sold it now, but it solves that problem exactly.



Aah - so I need a vintage rather than a reissue it seems...
I should have been clearer, you need the 6L6s