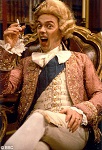 BY
GrantB
- Sun Feb 10, 2019 9:13 am
- Sun Feb 10, 2019 9:13 am
#817703
80 gigs later I am still loving this thing...I swear it sounds better every time I play it. Factory loaded Celestion Gold.I recall reading these have a Supro-ish front end and a hot Fender power section and with the Celestion, some Vox tipped in for good measure.
I have three amps that cover every thing for me, but this is the one that I couldn't part with unless my Awesome Random Samick Experience was truly dragging on the ground.
Photo from a gig last night - that Sennheiser e906 is absolutely a winner. Cheers for that one Tod!
"Man is the most insane species. He worships an invisible god and destroys a visible nature. Unaware that this nature he's destroying is this god he's worshipping." - Hubert Reeves