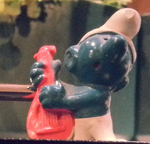 BY
Shimmer
- Fri Nov 09, 2018 7:54 am
- Fri Nov 09, 2018 7:54 am
#807585
I read (somewhere...?) that a lot of distortion pedals (DS1, Rat et) sound best when in front of a slightly overdriven amp, and can be terrible in front of a really clean amp. And they recommended if using a really clean up to pair one up with a bit of an OD pedal.
What are people's experience with this? Truth? Nonsense? Somewhere in between?

[Context - I have the Vox MV50 Clean and aside from my home-made fuzz, wanted to get something more distortion-y, like a Rat/PepersRAD ].
I want all the pedals!