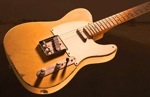 BY
Reg18
- Sun Nov 04, 2018 4:43 pm
- Sun Nov 04, 2018 4:43 pm
#807109
Having gone to digital amps (Yamaha TH100HD) at church I'm liking it but still struggling to get the feel right.
Now I will say the amp actually feels better when running through a cab but we are loading cab sims and going direct with in ears.

I think I have narrowed it down to the fact the amp doesn't saturate or compress the same. The sound is super clean and punchy but doesn't feel or sound quite right. If you wind up the gain it saturates better but suddenly all my drive pedals have way to much gain.

I have my Diamond Compressor always on and wound up significantly more than when using my tube amp.

Do I need a more tweakable compressor?
Maybe a midrange pedal (TS or Klon) to give the amp some saturation but with out too much gain?

Looking for a saturated with good sustain clean tone.