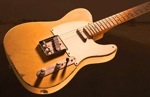 BY
Reg18
- Thu Oct 25, 2018 5:32 pm
- Thu Oct 25, 2018 5:32 pm
#806071
Have been asked by a friend who is Upgrading 2 Hot Rod Deluxes and wants my suggestion on the best upgrade for the speakers.
I don't know the amps well enough to know what works but he wants both amps matching perfectly for an exact stereo setup for studio recording.
He likes big headroom type clean sounds.

What would you reccomend?