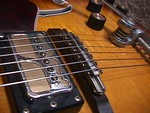 BY
H671
- Wed Nov 28, 2018 3:42 pm
- Wed Nov 28, 2018 3:42 pm
#809807
Molly wrote:

H671 wrote:

calling card wrote:I know...I bought a THD on impulse the other day & quickly realized I had a unit rated at 2.7 ohms and my application is 16 ohm. Still, half price compared to every where else I've looked. Apparently designed with Fender 4x10 in mind.
I'm thinking the reactive ones may be what to hunt down. I've always held off attenuators before because of tone suck comments but it's this or consign my tube beasts to the museum. Cracks me up, I see people using them on 5E3, this has been my soft home amp for a long time.



I tried to tell that turkey who was selling it, that it was rated at 2.7 Ohms, but he was too dishonest to disclose that fact because he knew not many people would buy it.



Green one, Christchurch seller? If it is I sold him that with full impedance disclosure. Intended for 3x10 Fenders I guess. I used it with a 4x10 Super Reverb and tried it with the 3x10 Victoria. When he subsequently listed it he ignored questions about its intended application.
Yeah, that was him.
Gibson 335, Harmony H671, Epiphone Riviera & EJ200CE, Greg Bennett RL4 LTD, Hagstrom Viking Bass, Squier Bass VI, Doubleneck bass/guitar.
Fender Champion 600, Ramparte, Excelsior, Vibro King, Rivera Clubster 45, SWR California Blonde, Ashton BSK158, Behringer Thunderbird Bass.