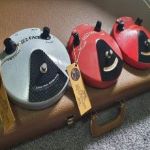 BY
mugamee
- Sun Aug 05, 2018 8:03 pm
- Sun Aug 05, 2018 8:03 pm
#795702
Initially i was looking for a prri but then chanced upon a drri for a good price.

It is too "loud" for home use (lol i know, what did i expect right?) I have a baby at home and a couple of flatmates. Well they don't mind at the moment, but yeah, i wouldnt want to push it...

Anyhows, for thove who have experienced using them, are attenuators worth purchasing?

Thanks team.