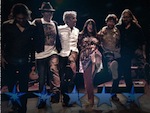 - Mon Nov 13, 2017 8:35 pm
#764110
My amp tech mate is looking at becoming a Lorantz dealer by way of ensuring a supply of speakers ( much needed in his line of work ) here in NZ.
He loaned me a 12" greenback style speaker to evaluate and I'm impressed.
It was supposedly designed to replicate the freq curve of a sweet sounding vintage greenback and certainly to my ears sits in that pocket fairly comfortably.
I didn't have a green back to a/b it with but did compare it to a Creamback M . The Creamback was thicker and chewier but the Lorantz was much clearer, slightly louder and with a touch more top and bottom end. Obviously it wasn't broken in but I'm sure would sound even better with some hours on it.
Anyhow what I'm wondering is if there would be any interest among the membership in these things being available over here. Ta