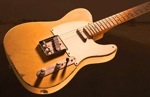 BY
Reg18
- Wed May 17, 2017 1:42 pm
- Wed May 17, 2017 1:42 pm
#739530
https://www.trademe.co.nz/1326778465
Tweed Deluxe head, sounds like it's home built.
It's about the 4th Time I've seen it listed so Clearly it's not worth $800 but I'm guessing he is valuing it based on his time doing all the dovetail joints and assembly etc.
It looks like a nice job but what's the real value?