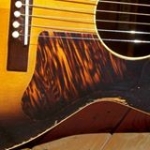 - Sat Dec 30, 2017 1:07 pm
#769118
Have: Greco Les Paul, EG800T (1979, Tobacco burst) original Maxon double white humbuckers, comes with a hardcase. Frets low, will need a re-fret in a litle while but if you love the fretless wonder feel then it's perfect.

I can refret to a pro level if required, would result in higher trade value as a result.

Trade for: Old weird Japanese stuff, or broken stuff that requires repair work.