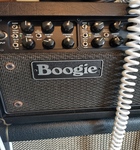 - Fri Feb 08, 2019 7:36 pm
#817603
Seem to be going round in circles a little bit, but I'm possibly looking at grabbing another active speaker for my modeller. Had a crack at using a power amp and cab setup with the AX8 and honestly it's more faffing about than really seems necessary and kinda defeats the purpose a bit.

Something like a Yamaha DXR, Wharfedale or JBL would be good. I'm not sure if there's and Atomic CLRs around but could stretch to that possibly.
All rock and roll bands are on the verge of breaking up at all times.