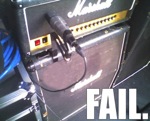 - Tue Jan 22, 2019 10:20 am
#815170
Voxshall wrote:

Molly wrote:
My relics are profiled that way. Can 'thumb-over' on my '66 reissue but it's a meaty handful nearer the body (LOL). That one's a maple two piece with a really great 'snap' to it. Big, ringing, piano bass. GrantB on the forum here did a great refret for me. I hate the colour though so sacrilege or not I'm going to paint it. Faded Surf Green (if I can get it to fade under UV light) with some relic work to match the neck.

I've never had or really played a pre-CBS (maybe for a brief moment here and there). I get nervous around questions like provenance and the kind of figures involved.



I see you have had a bit of experience repairing bodies and getting out the uv light. Did you notice any change in sound after a change of paint? Faded surf green sounds awesome, with strat colors my favourites seem to constantly change all the time, I used to hate black now I love it, used to love Olympic white and sunburst now I'm wanting something a bit more unique. My current customshop strat looks feista red but its coral under the pickgaurd. This was my favorite for years but now I'm to used to it, at least it pops off my wall nicely.


Which Lowden is that on your wall?