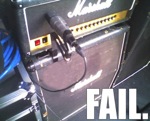 - Sat Mar 10, 2018 7:25 pm
#778139
I'm looking for an inexpensive 2 humbucker guitar to try out some new pickup and wiring options with. So, the guitar need not have pickups fitted. Apart from that, I'm open to whatever folks might want to suggest. Does not have to be a Les Paul type, a Strat would work just as well, or a Tele.
Cheap is good, as I'm going to be messing with it.

I've noticed a couple of Hamer XT Monaco reboxed guitars on TM for $335 shipped. They seem to have a few finish blemishes, but that would not bother me in the slightest. Are these any good? Better than a Chinese Epiphone LP standard? Better than a Korean Epiphone?

Any help or advice appreciated.