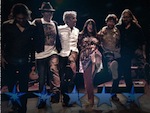 - Sun Apr 14, 2019 4:40 pm
#824672
You've all see this when Ben listed it at the start of the year. Great guitar but my hands cry out for fatter necks.
While in my custody I have lined the control cavities with copper tape which has reduced the background noise to an acceptable, for single coils, level.
Also had the frets dressed as it was previously fretting out on bends up the top of the neck.
Comes with Mastery bridge.
$4200
Also an Orange Rockerverb 50 mk2. Running 6l6's but equally kicks bottom with either el34's or kt88's ( those are just the ones I've tried ). Has a single 200 watt EV12L installed hence the empty speaker slot
$1350
Last edited by
Dharmajester
on Tue Apr 30, 2019 10:29 pm, edited 4 times in total.