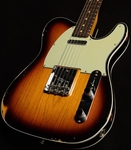 - Thu Feb 28, 2019 4:02 pm
#819549
Hey Guys,
Having a bit of a clear out.
Fender Custom Shop 1960 Strat - Relic Olympic White, Rosewood Board - SOLD
In as new (reliced) condition. Never gigged. I imported from the US a couple of years ago.
Here is the link to the original listing:
https://www.tundramusic.com/fender-custom-shop-1960s-stratocaster-relic-olympic-white-9230900205/
FREE SHIPPING!
After $3000 for this.
Fender 68 Custom Deluxe Reverb Reissue - SOLD
In excellent condition. Gigged once. Comes with unused cover and foot switch. Will have to be pick up only for this one as I don't have time to sort any packing products and pack it up. Great amp but I have too many.
Pedals
Mission Engineering EP1-KP for Kemper - $120
Excellent condition. Has original Box
Wampler Paisley Drive, Version 1 - $150
Excellent condition. Has velcro on bottom.
Roland EV5 Expression Pedal - $50
Good condition, velcro on bottom.
TC Helicon harmony G-XT Vocal harmony pedal - SOLD.
Done my best to be fair with prices. But happy to discuss if I'm way off. Not looking to fleece anybody!
Call it $10 for shipping pedals.
Mark
Last edited by
bluesierra
on Mon Mar 11, 2019 1:33 pm, edited 6 times in total.