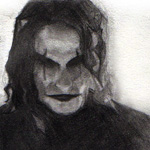 - Fri Feb 08, 2019 9:58 am
#817533
Flight-style case with clear Perspex front for display purposes – commonly seen in music stores like the Rock Shop for showing off fancy gats in store. Plush lining on the inside with some adjustable padding and strapping latch to hold in place when upright, as well as mounting brackets on the rear side for displaying on a wall. Case is in excellent condition with perfect handle and latches. Should fit most regular shapes i.e. Tele/Strat/PRS/SG/Les Paul, won't get pointy or Explorer style etc. Internal width is just on 37.5cm across length is 106cm.
I bought with the intent of replacing the Perspex with ply or similar to make it into a true flight case but lost interest due to other projects etc. I ended up getting a custom-cut piece of solid foam cut from Para Rubber to fit between the guitar and Perspex as you can see in the first pic as an interim solution for being able to cart around a guitar without it moving about/provide some privacy. This works pretty well and I've take it out like this to a couple of practices and shows with confidence in stability. The Perspex is quite thick anyway and would take a solid blunt hit to crack or break.
Effectively, you can use it as display case, or hard case if so inclined as the foam is easily removable but tight enough to hold in place. Basically selling as surplus to requirements. Because of the mass and dimensions, it must be collected in person as too much hassle to ship, unless you want to organise it your end and have someone collect it from me for transit. North Shore, Aucks.
Guitar not included

http://www.facebook.com/#!/pages/The-Al ... 895?ref=ts
FYI, I'm NOT Scarecrow101 on Trade Me.... just The_Scarecrow